Chisato Tajima Credits Assistance League, May 2016
In 2004, Chisato Tajima moved from Japan to North Texas with her husband, Yoz Tajima, Executive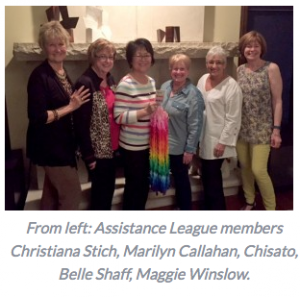 Vice President and Chief Administrative officer of Fujitsu Network Communications. Shortly after she arrived, a friendly neighbor invited her to attend a meeting of Assistance League of Greater Collin County as her guest. Immediately feeling that she had found a "home," Chisato joined Assistance League of Greater Collin County and remained a member for over 10 years until she and her husband returned to Japan.
The concept of "donation" of either time or money was not a common practice in Japan until the Tsunami hit in 2011. Through her association with the chapter, Chisato realized the joy of volunteering with her new friends. Before she returned to Japan, she was awarded the Ada Edwards Laughlin Award. This award is given only occasionally to recognize the efforts of a member who actively serves behind the scenes.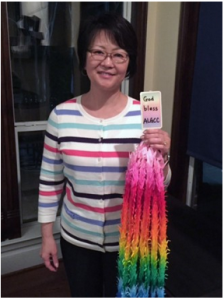 Her friends at Assistance League encouraged her to follow her dream of getting a Master's Degree when she returned home. Her experiences with Assistance League became the subject of her thesis about the importance of friendship and comradery within a philanthropic organization. It is her hope that through her thesis, she can encourage women in Japan to appreciate the value of donating their time and effort to help those in need.
Much to the joy of her friends, Chisato came to visit in April and attended Assistance League's Luncheon and Fashion Show at Heritage Ranch in Fairview.  She presented the chapter with a "Senbazuru," an origami hanging made of 1,000 folded paper cranes created by Chisato and her mother. Done in rainbow colors, it symbolizes prayers for recovery, healing, and good wishes.
Anne Lindberg talks about "saving one starfish at a time," and Chisato feels she is that "one starfish" who can point others to the rewards of helping others…which she learned through Assistance League of Greater Collin County.
Source:planoprofile.com