Operation School Bell Retail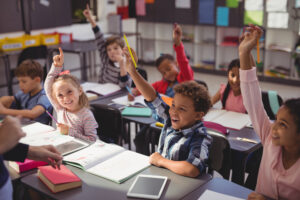 Building Confidence
Imagine not having the clothes to dress appropriately for an ordinary school day—not a great picture. Now, imagine what a gift it would be to shop for and purchase your very own new school clothing.  That is what happens for 1100 elementary school students In Collin County each year because of Operation School Bell.
We provide new school clothes and shoes to kids in need.
For some children, this will be the first time they have ever had a new pair of shoes, a warm coat of their own, or clothes that truly make them feel like they fit in with the other children.
Kids are given the confidence they need to succeed.
New clothing has the power to elevate self-esteem, encourage school attendance, and improve academic performance. We are providing far more than just a new wardrobe, we are empowering young students to reach their full potential.
Click here to view our most recent Shopping Days at JCPenney.