Dr. Seuss Reading Day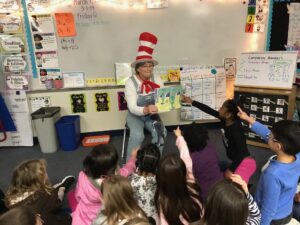 In support of literacy, our members are always engaged in Dr. Seuss Reading Day!  Annually, we dress up in our finest Dr. Seuss costumes and read to children in first grade classrooms.  Each child receives a Dr. Seuss book to keep, in some cases their very first book to own; and each school library receives a boxed set of Dr. Seuss books.
This event raises awareness of the importance of helping less fortunate children blossom and grow.  These children experience the transformation that someone caring about them can make.  It is programs like this that empower a child to excel.  Thank you to all our sponsors for allowing us to serve our community in these empowering ways.